Rodrigo Gracie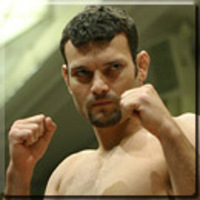 Rodrigo Gracie was born in Rio de Janeiro, Brazil to a Jiu-Jitsu master Reylson Gracie. His grandfather Carlos Gracie along with his uncle Helio Gracie are the founders of what today is know as Brazilian Jiu-Jitsu. As member of the legendary Gracie family its no surprise that Rodrigo was introduced to Jiu-Jitsu from early age.
Rodrigo received his black belt from his father Reylson Gracie at the age of 19. Shortly after Rodrigo moved to California to teach Jiu-Jitsu. He found his way to New York city, were he was training with his cousin Renzo Gracie. The demand for Jiu-Jitsu was high so Rodrigo took advantage of the opportunity and opened his own academy in New York City.
Looking for new challenges and opportunities Rodrigo moved to Los Angeles California where they were welcomed by Rodrigo's cousin Royce Gracie. Rodrigo and Royce have started to train together as well as spend a lot of time as a family. Currently Rodrigo teaches in Torrance, CA. as well as travels conducting seminars all all of Royce Gracie Jiu-Jitsu Networks.