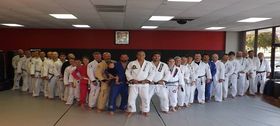 Chilcutt's Memphis Mixed Martial Arts is Memphis's elite martial arts facility. Our students get in great shape, learn real world self defense, improve self-discipline, increase self-esteem, make new friends, and more.
For Adults

Our Mixed Martial Arts(MMA) combines the best of all martial arts disciplines. Whether you want to be a fighter, prepare for any self defense situation, or just take your fitness to another level, MMA is the perfect choice. All ages and fitness levels are welcome. Learn more about Mixed Martial Arts.

With Jiu-Jitsu you submit opponents with joint locks and choke holds. You will use leverage, technique and intelligence to defeat a bigger, stronger opponent. Jiu-Jitsu is a non-violent self defense system. Learn more about Jiu-Jitsu.

With Kickboxing you strike with your hands, elbows, knees and feet. Learn cutting edge techniques while getting a incredible full body work out. You will have a great great time and make new friends. Learn more about Kickboxing.

In Krav Maga Self Defense there are no rules. All techniques focus on sold street defense strategies. The attacks & defenses in Krav training are designed generally for close quarters and possible life threatening situations. Learn more about Krav Maga Self Defense.

With Weapons Kali todo: Weapons Kali Learn more about Weapons Kali.
Children Martial Arts and Karate

Children Martial Arts and Karate excels at child character development. We enable children to defeat bullies. Martial arts will increase your child's self confidence, fitness, focus, discipline, and more. Learn more about Children Martial Arts and Karate.
Get Started Today
Join us for 2 free martial arts classes. Our classes are fun and safe. We make everyone feel welcome no matter their skill level or physical condition. Afterwards if you don't think we are the perfect place for you to train then there won't be any hard feelings. We only take a limited number of new students in every class so signup up early for your 2 free martial arts classes.