Royce Gracie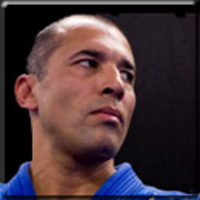 Royce's reputable career as a fighter began in 1993 after defeating three opponents in the first Ultimate Fighting Championship. His opponents consistently outweighed him by more than 50 pounds. He went on to win 3 UFC titles and today is the only man in the history of no holds barred matches to successfully defeat four opponents in one night.
Royce is still active in the fight world. He fought the longest MMA match in history, going over 90 minutes against Japanese superstar Kazushi Sakuraba at the PRIDE Grand PRIX 2000. Along with his total domination of the Olympic Judo Gold Medalist Hidehiko Yoshida in PRIDE Shockwave 2003.
The legend of the Gracie family began in Brazil with Royce's father, Helio Gracie. Today Royce is privileged to spread the techniques perfected by his father all over the world. Throughout his busy fighting career Royce has maintained a rigorous travel schedule of seminars and classes.