Chad Chilcutt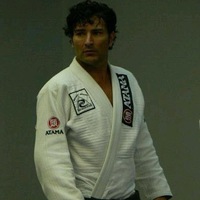 Born: November 29, 1970—Memphis, TN
Professor Chad Chilcutt, the CEO of Chilcutt's Memphis Mixed Martial Arts & Memphis Royce Gracie Jiu-Jitsu began studying karate at the age of eight years old at a local community center. The reason for entering into karate was due to being bullied by other kids at school. The martial arts helped so much with the bullying issue that a passion of learning more created a desire to set goals for earning karate belts (The Black Belt) & competing in lots of tournaments. Chad's training started with Sensi Steve Stanford (4th Degree Black Belt under Bill Wallace & Joe Lewis) at a Community Center, Mr. Stanford was the head Karate Instructor at Memphis State University. Mr. Stanford would often take Chad to karate classes at the University. Chad stayed in Karate for three years and then got out of it due to competitive sports. At the age of sixteen years old, Chad was in a bad car wreck on my birthday and broke my neck. Luckily, no blessed, Chad lived through this with no major limitations and went back to school that year. Later that year, Chad was contacted by Mr. Stanford to start back with classes. Chad started training again and earned 1st degree black belt at 18yrs. Now, 27 years actively studying, training, teaching, competing, and promoting Martial Arts. Chad's life and career has helped so many people in different areas in their life. Chad's career, passion in the martial arts is carried on to his kids, and all the students.
Chad Chilcutt holds a
4th Degree Black belt in Karate
3rd Degree Black Belt in Gracie Jiu-jitsu under UFC Legend Royce Gracie & Rodrigo Gracie
Army Combative Level 2- Instructor Under John Renken.
Tennessee athletic Commissor for MMA
Over the years, Chad has trained a lot with Legends Bill "Superfoot"Wallace, the late Legendary Joe Lewis. Furthermore, Renzo Gracie, Gene Labelle, Pedro Sauer, Carlos Machado. Chad has helped some the careers of MMA/UFC participants such as Quiton " Ramage" Jackson from Memphis, UFC Fighter Mike "Quicksand" Pyle. Also, some of Mr. Chilcutt's Black Belt's & MMA students have landed movie roles to broaden their accomplishments. Martial Arts has taken chad all over the world from competing in Karate tournament to MMA events, to training and teaching students, Military, law enforcement, ATF, FBI personnel, to loss-control, crowd control- bodyguard security operations. Chad holds a Bachelor's Degree in Professional Studies from the University of Memphis concentrating in Youth & Adult sport development and promotion.
Regional Sport Karate Champion 1995 & 1996- Sparring
R.S.K.C. & NASKA Promoter, The Promoter of the " Battle of Memphis Karate & Grappling Championships
Caribbean Fighting Champion "No Holds Barred" Nassau, Bahamas—1997
Mid-South MMA Fighting Champion—2000
Promoter of Battle in the Cage MMA Amateur Fighting Event—2005-2007
G.R.A.C.I.E. Law Enforcement Certified ( Gracie Retention & Control)
Awarded Black Belt Jiu-jitsu by Royce Gracie—September 18, 2011
Certified Army Combatives level 1 &2. Currently working on level 3.
Promoter of Attitude MMA Fights 2014.
Promoter of Kids Bullying Stops Here 2014.
Training Description:
Our members at CMMMA know Chad as Sensi or Coach. Chad's always working hard to improve his individual skills but also the skill of all students at the gym in a fun, clean & safe environment. Chad Chilcutt dedicates a lot of time to his students and constantly working on daily school operations while instilling members to be the best they can be.